2021 Tesla Model Y Owner's Manual
---
You can view the 2021 Tesla Model Y Owner's Manual further down the page underneath the image of the cover.
Clicking on the "view full screen" button will take you to a full screen version of the manual.
Manual Cover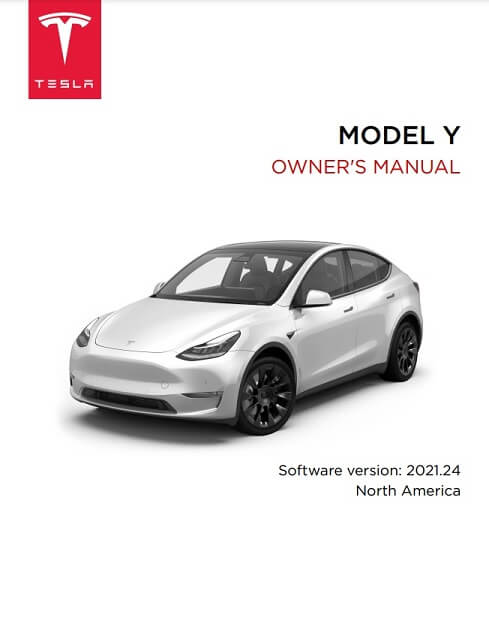 2021 Model Y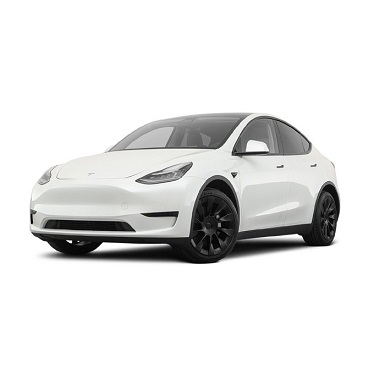 The Model Y is Tesla's crossover vehicle, something in between the Model 3 and the Model X.
It's bigger than the 3, with about 68 cubic feet of cargo space, but smaller and a little sportier than the Model X.
You can find a detailed explanation of the dimensions of the car as well as interior space described in liters of volume in the manual to the left (or above if viewing on mobile).
Having said that, all of Tesla's models have a certain sporty sleekness to them, anyway.
The Model Y shares a platform and around three-quarters of the same individual parts as the Model 3.
One big difference, though is the optional third row that lets the Model Y seat up to 7 people.
The long-range AWD version can manage 326 miles on a single charge, and if you get the performance upgrade, the Model Y can go from 0 to 60 in just 3.5 seconds.
How many other crossovers do you know that can manage that kind of acceleration?
The Model Y shares this speed with its many Tesla siblings, but unfortunately, it also shares their high starting prices.
The 2021 Model Y kicks off at around $51,000 for the AWD version and $61,000 if you get the performance upgrade.
One interesting thing about the Model Y is that it was the first Tesla car to make use of heat pump technology instead of a standard electric resistance heater.
This technology is far more efficient - 300 percent more efficient, apparently - by using this technology over other Tesla models in cold weather.
If you are struggling to understand the climate controls then the owner's manual on this page has a huge section covering it.
That's especially important when you remember that most electric cars lose as much as 40 percent (or more) of their range due to cold weather.
Following on from this 2021 version is the 2022 Model Y that boasts structurally integrated batteries leading to a lower overall weight of the car.