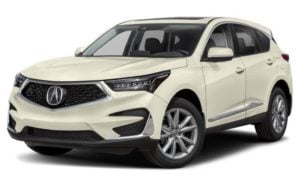 About The RDX
The first compact luxury crossover SUV from Acura is the RDX, originally built on the same platform as the Honda Civic and CR-V it gained its own unique one in its third generation of design.
Production of the RDX originally started in 2006 though the 4 wheel drive version wasn't released for 3 more years until 2009.
Early models were only available as turbo petrol before a naturally aspirated V6 was offered in generation 2 and then in the third generation, the car moved back to turbocharged petrol.
A 3rd generation version of the RDX has a 10-speed automatic gearbox to try to capture as many miles per gallon as possible from the fuel in the car.
Across the years the car has earned some great safety ratings from NHTSA, scoring a 5 out of 5 in most tests, only missing out with 4 stars in rollover tests.
For more of the popular models from this automaker see the Acura owner's manual archive on this site.
Common Problems With The RDX
Brakes – the most common complaint about the RDX is the brakes squeaking and needing a possible replacement of pads
Infotainment – much to the occupant's annoyance the infotainment screen in the dashboard is known to freeze and lockout the controls
Airbags – the most potentially dangerous issue that the RDX is known for is the airbags can explode with too much force, sending shards of metal flying towards the passengers