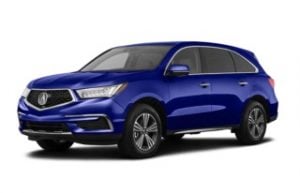 About The MDX
The Acura MDX (or Honda MDX as it's known in Japan and Australia) is a mid-sized luxury crossover SUV with 3 rows of seats.
An Acura version was first released in the year 2000 but it took 3 more years before the Honda version was sold to the select regions that it was available in.
Honda boasts that sales of the MDX have surpassed any other luxury SUV model on the market with no signs of slowing down year on year.
The MDX took over from the Honda Horizon (which was known as the Isuzu Trooper in many non-American territories) to move away from the bulky 4×4 platform that was losing favor with buyers.
Original versions were only available as a four-wheel-drive but the later, more modern version can come with a front-wheel-drive chassis to reduce running costs.
For other models from the same manufacturer, you can check the Acura owner's manual section of this site.
The third-generation model released in 2013 added the option of adding a hybrid system to your MDX to extend the range of the tank and further reduce fuel costs.
A hybrid version of the MDX is only available on the four-wheel-drive drive-train with the engine providing power to the front and electric motors connected to the rear.
This car has won many awards from magazines over the years and the safety rating is fantastic according to NTSA, the car only seems to fall back slightly on rollover risks like most SUVs.