You can find 13 different owner's manuals for the Audi A3 on this page that are in the PDF format.
Yearly A3 Owner's Manuals
The years available stretch from 2008 through to 2024 and to view the manual you just click the name underneath.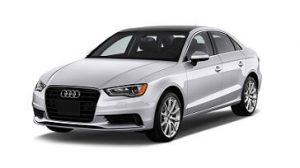 About The A3
The Audi A3 first came into production in 1996 and was marketed as a subcompact executive car.
It's packed with so much technology that the owner's manual has become something of a necessity just to get around town.
If you're new to this model or are considering buying one, then take some time to read through these tips and tricks.
Originally the car manufacturing company launched the A3 on the same platform as the Volkswagen Golf.
Later generations (starting with generation 3) then moved onto the platform shared not only with the Golf but with many other vehicles such as the Volkswagen Passat and Audi Q2.
When first put on sale the Audi A3 was intended to replace the aging "50" model that acted as a compact car though lacked a sporty executive image like the rest of the range.
A3's could be bought with front-wheel or four-wheel drive and a wide range of trims and engines kept the car within many people's budgets.
When ordering the hatchback version of the car new you can choose from one of the following trims:
Audi Sport Edition
Black Edition
E-Tron
S Line
S3
S3 Black Edition
SE
SE Technik
Sport
Over the generations of redesign, the safety rating has improved from a satisfactory level to a full 5 out of 5 stars awarded by Euro NCAP.
The newest generation of Audi A3 is the fourth that became first available in 2020 with styling heavily inspired by sister-brand Lamborghini.
Underneath this fourth-generation model, you will find the same platform used by other Volkswagen brand models such as the SEAT Leon.
With the car crammed full of the latest technology, it has earned itself many awards from motoring publications such as What Car.
Buyers can opt for a hatchback or sedan layout with many different engine sizes and a fuel-saving hybrid option is also available for the 2020+ model.