You can find 6 different owner's manuals for the Audi Q8 on this page that are in the PDF format.
Yearly Q8 Owner's Manuals
The years available stretch from 2018 through to 2023 and to view the manual you just click the name underneath.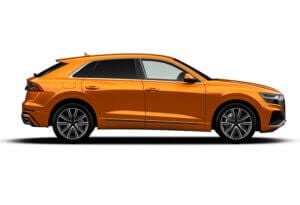 About The Q8
To take on the BMW X6 and Mercedes-Benz GLE, Audi took to the drawing board and produced the Q8 model using the same chassis as the A8.
Occupying the mid-size luxury crossover SUV segment of the auto market, it doesn't have the equipment needed to go off-road (like a Jeep Wrangler) but still boasts a spacey interior.
It's a lot like the rest of the Audi crossover SUV range (rating from the Q2 to Q7) but is very large and long.
You can find out about all the different features in the owner's manual, where Audi discusses everything you need to know about your Q8.
The first examples of the Q8 were driven off the production line in 2018 for the 2019 model year.
Engine and transmission options on the order sheet make it obvious that this car is intended as a performance model.
As an entry-level, the 3-liter twin-scroll turbo V6 is hardly modest and the range of powerplants goes up to a 4-liter twin-turbodiesel.
All of the engines on the Audi Q8 are mated to an 8-speed automatic transmission which powers all four wheels.
For 2020 the model gained its performance trim that the German automaker called the RS Q8 – bringing the 4-liter twin-turbocharged engine from the RS6 and RS7.