Chevrolet Colorado Owner's Manual
---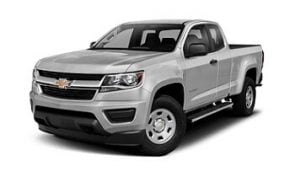 About The Colorado
The Chevrolet Colorado and GMC Canyon are 2 models built on the same platform by its parent company General Motors.
Both started out life as compact pickup trucks in 2003 and over the redesigns grew in size to become mid-size in classification.
These owner's manuals will provide you with information on how to use the manual transmission that comes standard on this vehicle.
Examples of other compact pickup trucks include the Ford Ranger and the Toyota Tacoma.
These 2 models were brought in to replace the Chevrolet S-10 and GMC Sonoma which were discontinued in many markets apart from Brazil.
When the Chevrolet Colorado hit the showrooms customers found they could choose from a wide range of engines and either a 5-speed manual or 4-speed automatic transmission.
In Australia, an almost identical truck is sold by General Motors but under their Australian brand, as the Holden Colorado.
Engine sizes ranged from a modest 2.5-liter 4 cylinder through to a powerful 5.3-liter V8 added later on.
As the second generation came on sale in 2011 the options of the engine were reduced and the more powerful variants removed.
Transmission options did expand though and customers could add an 8-speed automatic gearbox that aided acceleration and fuel economy.
Sales of the truck have increased steadily as Chevrolet pushes the model to newly emerging markets as an affordable and reliable pickup truck.
For those who want a bit more excitement, a ZR2 version was released in the 2017 model year that featured improved off-road performance.
Electronically operated differentials, dynamic dampers and an enhanced "off-road mode" help the truck perform better off the road.
Aside from the performance trims, you could also find the car on sale with any of the following labels on them:
FAQ's
Q: Does the Chevy Colorado come in a manual transmission?
A: The most recent version of the Colorado (as of 2021) is available with either an automatic or manual transmission.
---
Q: Did Chevy Colorado have a V8?
A: Up until the second-generation model that was released in 2011 the Colorado was offered with a V8 engine.
---
Q: How long do Chevrolet Colorado pickup trucks last?
A: With proper servicing and maintenance, you can expect your Colorado to last up to 300,000 miles. The trucks are well-engineered solid vehicles built for commercial and domestic use.
---
Q: Why does my Chevrolet Colorado shake?
A: This could be down to a faulty driveshaft that was common in some years of the Colorado model. Check with your local Chevrolet dealership to see if you are able to get a replacement fitted.
---
Q: What kind of oil does a Chevy Colorado take?
A: The manufacturer recommends that you use fully synthetic oil in your Chevrolet Colorado pickup truck. Using this over conventional oil will mean you won't have to change the filter and liquid anywhere near as often.