Jeep Compass Owner's Manual
---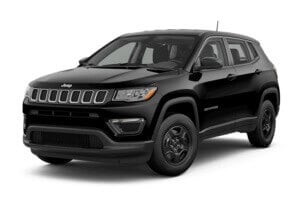 About The Compass
The Jeep Compass is a compact crossover SUV that has been through 2 generations of design since its release in 2007.
A second-generation release came in 2016 and the new model shares its platform with the smaller Renegade range from the same manufacturer.
Originally the concept car for the Compass showcased what it would look like as a 2 door but only the 4 door version came into production.
Customization Options
A first-generation model was released with a limited range of engine sizes, all roughly around the 2-liter mark (gasoline and diesel) with the choice of a 5 or 6-speed manual or 5-speed automatic transmission.
Trim variants came in the following forms:
Sport – this served as the base model with alloy wheels and CD player though you could upgrade certain options like a premium entertainment system and power windows
Latitude – included the base Sport features but also added keyless entry and a security system
Limited – all of the above plus a sunroof, remote engine starting and leather interior
Compass Safety
In terms of safety, the original Compass fell down in many categories like many off-road cars with a high center of gravity do.
The second generation changed all that and earned the car an impressive 5 out of 5 safety rating.
This second-generation also brought with it a new higher level trim: the Trailhark – with improved off-road features over the previous trims
Smaller displacement options were added to the range to keep the car desirable for emerging markets that tax a vehicle based on the size of the engine.
FAQ's
Q: Does the Jeep Compass come in manual?
A: The current Jeep Compass (as of 2021) is available with either an automatic, dual-clutch or manual transmission.
---
Q: When should I change the oil in my Jeep Compass?
A: It is recommended you use synthetic oil in your Jeep Compass and change it every 7,000 - 10,000 miles according to the owner's manual. You can also use conventional oil instead of synthetic but you will need to change the fluid and filter twice as often.
---
Q: Are Jeep Compass's reliable cars?
A: According to research, the Compass is low on the reliability spectrum when compared to other similar SUVs. More modern examples of the Jeep model score higher but that may be because they have not had time to show problems yet, do your research.
---
Q: Is Jeep Compass being discontinued?
A: In 2015 the Compass model was supposed to be discontinued in favour of the Renegade model but was kept on sale to diversify the Jeep crossover range.
---
Q: How long will a Jeep Compass last?
A: Looking at the Compass models on sale with high mileage you can still see some models on sale with just under 200,000 miles on the clock. These cars are engineered to last with tough components and when looked after properly they can last a long time.