Ford Bronco (incl. Sport) Owner's Manual
---
You can find 6 different owner's manuals for the Ford Bronco (incl. Sport) on this page that are in the PDF format.
Yearly Bronco Owner's Manuals
The years available stretch from 1996 through to 2023 and to view the manual you just click the name underneath.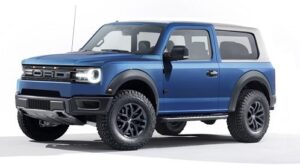 About The Bronco
Since the mid-1960's the Ford Bronco has been an SUV model that started off as a compact and then grew to be a full-size SUV when it was discontinued in 1996.
The model has been revived for the 2021 model year and will reappear as a mid-size SUV coming back roughly the same length it was in the late-1970's.
Original 1960 models had their own custom chassis built just for this car but the second generation was built on a shortened version of the F-150 platform.
Due to a decline in 2 door SUVs and a move into the car type being used more for families the Expedition model took over.
After 25 years out of the picture, the Bronco name is being revived for 2021 as a 3 or 4 door SUV with a convertible option available too.
The new car will be powered by a range of fuel-efficient economic engines rather than large gas-guzzling V6 and V8's like the original.
A compact crossover SUV model was also introduced in 2021 that employed a lighter chassis design, intended to be driven primarily on the road.
This unibody version of the car is marketed as the Bronco Sport and shares its platform with the Maverick and Escape.
Engine options for the Sport model are smaller than the traditional Bronco and feature smaller displacements with efficient turbochargers.
Transmission options will be a 7-speed manual or a modern 10 speed automatic to get the most acceleration and fuel economy out of the engine as possible.
Production of the new Ford Bronco will take place in the USA at 2 factories and the model will be marketed in the North American region.
The most important thing you can do to maintain your Bronco is keeping it clean by washing and waxing every few months.
You should also change the oil and check the fluid levels regularly, how to do this is covered in the relevant owner's manual listed on this page.