Ford EcoSport Owner's Manual
---
You can find 8 different owner's manuals for the Ford EcoSport on this page that are in the PDF format.
Yearly EcoSport Owner's Manuals
The years available stretch from 2016 through to 2023 and to view the manual you just click the name underneath.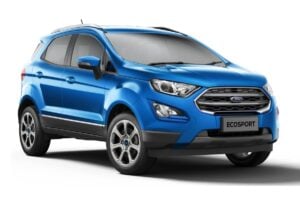 About The EcoSport
Originally the Ford EcoSport was a project aimed at the rapidly growing Brazilian automobile market.
Then with the release of the second-generation in 2012, the EcoSport was introduced into various other regions, starting with India.
Over the next several years assembly plants opened up in Russia and Asia and the car was marketed to these new regions.
It wasn't until 2018 that the Brazilian manufactured cars were started to be sold in North America due to the car's widespread adoption worldwide.
Underneath the car is the European Fiesta chassis meaning that this SUV is not off-road capable even though you would assume so from its appearance.
This means that the car weighs an acceptable amount for most car buyers who would rather not have to pay a lot of money for fuel to drive around a 4X4.
If you are interested in learning more about this vehicle's specifications or want to read up on maintenance recommendations, then be sure to check out the official owner's manuals listed on this page.
Overall sales globally have climbed through the years and thanks to the high demand for subcompact crossover SUVs like this one it will probably continue this way.
To complement the introduction of the Ford EcoSport into the North American market the company gave it a major face-lift in the 2018 model year.
Alongside this face-lift was a shuffle around of the trim options for the subcompact crossover SUV, now buyers could choose one of the following:
ST-Line
Titanium
Titanium S
Zetec
Front and rear styling had been updated and an optional touchscreen infotainment system was made available to help keep the car in the budget category.