You can find 11 different owner's manuals for the Ford Flex on this page that are in the PDF format.
Yearly Flex Owner's Manuals
The years available stretch from 2009 through to 2019 and to view the manual you just click the name underneath.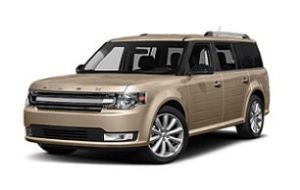 About The Flex
The Flex is a full-sized crossover created by the Ford Motor Company. Lasting just one decade between 2009-2019, the Flex replaced the Taurus (but was slightly larger), and was developed from the concept car shown at the Chicago Auto Show.
An original concept was a multipurpose vehicle, but Ford made the decision to turn it into a 5 door station wagon to appeal to a wider market.
Throughout its life, the Flex was built and produced by Ford Canada at the Oakville Assembly Plant, Ontario. Built on the Ford CD3 platform, the Flex had three rows of seating and was boxy in its design. Peter Horbury (an ex-designer for Volvo) styled the model, he wanted the vehicle to look like it was lower to the ground and thus created the 'floating roof.' This was achieved by having an all-white roof supported by blacked-out pillars. 2 main engine configurations were available, both 3.5-liter V6 coupled with a 6-speed automatic transmission. There was the option to add all-wheel drive to the higher models. The Flex could tow 4,500 lbs and had three trim levels, SE (basic), SEL and Limited (top level. The latter could seat 7 people and had a folding second-row bench.
This Flex had an upgrade in 2013 which was showcased at the Los Angeles Auto Show with new front and rear bumpers and a new grille. At this point, a new trim was created, the Titanium, this was above the Limited and had blacked-out headlights, dark tail lights, 3 bar grille, no front badge and a variety of upholstery colors; red, silver, black and white.
In 2010, the Flex was ranked the third best affordable mid or full-sized SUV by US News (losing out only to the Buick Enclave and the Chevrolet Traverse). The Flex was also voted one of the most reliable large SUVs and Ford's more reliable vehicle based on actual statistics.
Despite its accolades, the Flex ceased production in 2019, in its lifetime, it had sold just under 300,000 units. At just under 30,000 units sold per year, Ford deemed this too low and so stopped selling the Flex.