Ford Mustang Owner's Manual
---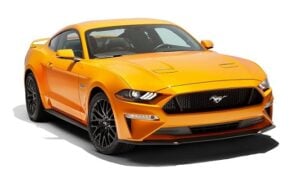 About The Mustang
The range of Ford Mustang's has been in production since 1964 and is the longest-running nameplate by the manufacturer.
These owner's manuals on this page will give you all the details about your Mustang, including what fluids are needed for the engine, how often it needs an oil change, and even where the battery is located.
This car is classified as a "pony" car and is known for its long hood and short deck – sort of a smaller, entry-level muscle car for the masses.
Other famous pony cars that the Mustang has competed with over the years with include the Chevrolet Corvette and Dodge Charger.
During its long life over 6 decades, the Mustang has been sold as a 3 door hatchback, a 2 door fastback, a 2 door coupe and a 2 door convertible.
Initial sales exceeded expectations with Ford expecting to sell 100,00 units a year but in reality, the number was 4 times that.
The second-generation model was released during a fuel price crisis and to respond to this the car was reduced in size with engine options following that trend to protect sales.
Luckily this move helped save a lot of the sales that would have been lost and carry on the Mustang badge thereafter.
When the third generation hit the showrooms the size had once again sprung back with fuel prices stabilizing. More storage and interior room were available as well as a larger engine bay for more exotic breeds of power plants to be installed.
In the 2000s when the fifth generation came to fruition, the car seemed to have returned to its original classic styling from the 1960s and 1970s but with a modern twist.
Many premium versions of the Mustang became available with huge V8's strapped with superchargers and other modern technology to squeeze out as much performance, reliability and economy as possible.
Sales have never returned to the sort that the car experienced in the 1960 and 1970 decades (due to increased competition and change of buyer requirements) but have remained constant.
In 2021 Fords released the all-electric battery-powered Mustang Mach-E built on top of the Focus platform featuring amazing new technologies.