Chevrolet Corvette Owner's Manual
---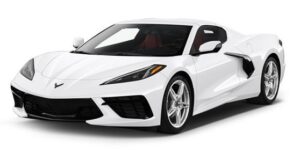 About The Corvette
The Chevrolet Corvette name traces its roots back to the early 1950s when a convertible was released under that name.
If you own a Chevrolet Corvette and need to know how best to take care of your vehicle, these owner's manuals will show you what you need to do.
This car has always stayed true to its original layout of being a 2 seater sports car though they did add a roofed option to the second generation in 1963.
Over the years the Corvette has become the quintessential American sports car with assembly always taking place within the country.
Other pony and muscle cars probably failed to take this title due to their inability to stick to their original roots, such as the Ford Mustang and Dodge Charger which both morphed into compact cars in the 1980's~.
Generations of the Corvette are displayed with the model of the car as a "C" followed by the number, currently ranging from C1 through to C8.
Special edition versions of the car have always proved successful for the company with famous examples being the ZR-1 and the Stingray.
Production numbers of the car have remained stable since the 1980s though never saw the peak that the car saw in the 1970s again.
The Chevrolet Corvette is a common sight in Motorsport where they regularly appear in GT and the Le Mans 24 Hour's races.