Hyundai Bayon Owner's Manual
---
You can find 0 different owner's manuals for the Hyundai Bayon on this page that are in the PDF format.
Yearly Bayon Owner's Manuals
The years available stretch from 2100 through to 1900 and to view the manual you just click the name underneath.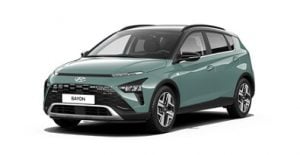 About The Bayon
The Hyundai Bayon was designed to be exclusively marketed in the European market.
It is the smallest SUV that the South Korean automaker sells in the continent and slots just underneath the Kona.
Both of these models are classed as subcompact crossover SUVs, incorporating the chassis into the body.
This is unlike traditional SUVs that have a separate chassis and body but lead to a much heavier overall weight.
Underneath the Bayon is the same platform used in the i20 supermini also sold by the company.
When ordering the car new you are only given the option of a front-wheel-drive setup, the company doesn't intend on offering a four-wheel-drive version.
Offering the car as a front-wheel-drive only results in lower development costs – they also don't expect many people to upgrade to a heavier offroad-capable chassis.
Production of the Bayon started in 2021 (in an assembly plant in Turkey) for the 2022 model year as a joint project with Kibar Holding.
Buyers have the option of two engines, a three-cylinder 1.0-liter or a 4-cylinder 1.2-liter gasoline powerplant.
Mated to these is either manual or automatic transmission (the 1.2-liter only has the option of a 5-speed manual gearbox).