Hyundai i20 Owner's Manual
---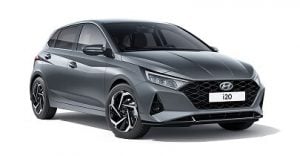 About The i20
In most of the markets that Hyundai operates around the world, this i20 was introduced to replace the Getz.
It's classed as a supermini (like the Volkswagen Golf or Renault Clio) packing many features into a small compact car frame.
In Australia and North America, the i20 isn't sold and instead the slightly larger Accent is marketed there instead.
To create the i20 in 2008 when production began the South Korean automaker took the PB platform and used it as a base.
You could also find this PB platform at work under the Kia Rio and Hyundai Veloster at the same time.
Buyers had the option of one of seven engines including both gasoline and turbodiesel options with either a manual or automatic transmission.
In 2009 Euro NCAP crash-tested the car and awarded it five out or five stars with a good all-around score across the disciplines.
2014 saw the introduction of the second generation which was split into two different versions, one for Europe and one for the Indian market.
The European model shared its platform with the Kia Stonic and the Kia Soul, packed with more features as standard – along with a higher price.
For the Indian market, the Hyundai i20 there shared its platform with many of the same models from the first generation.
Then in 2020, we saw the third-generation i20 hit showrooms and a return to a single chassis, based on the Accent again.
A flurry of modern technologies including a touchscreen infotainment system for European customers helped the car appeal to the tougher auto market there.
A performance version of the car was also brought in for 2020 called the i20 N, featuring a 1.6-liter turbocharged engine and 6-speed manual transmission.
Underneath the i20 N the chassis is reinforced and the suspension setup is tuned for sports use – upfront is an intercooler system unique to this model.