Genesis G90 Owner's Manual
---
You can find 7 different owner's manuals for the Genesis G90 on this page that are in the PDF format.
Yearly Genesis G90 Owner's Manuals
The years available stretch from 2016 through to 2022 and to view the manual you just click the name underneath.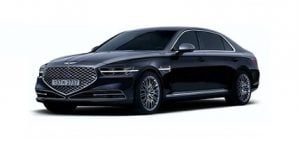 About The Genesis G90
The Genesis G90 is classed as a full-size luxury car and went into production in 2015.
It debuted in South Korea in the 2016 model year but didn't make it to the rest of the world until the 2017 model year.
The G90 was one of the first models to be released by the newly spun-off Genesis brand from Hyundai.
It replaced the Hyundai Equus which was dropped in the year that this car went on sale in its home country.
Underneath this new model is the same chassis as the G80, the model that was previously known as the Hyundai Genesis.
You can find the G90 on sale with a variety of larger displacement engines starting at 3.3-liters in size through to a 5-liter V8.
All of these engine options are mated to an 8-speed automatic transmission with a manual-shift mode to experience the hands-on feel when desired.
By default, the car is offered as a rear-wheel-drive but an all-wheel-drive system is available as an upgrade.
For those wanting a longer version of the car, you can opt for the G90L and it is only available with the 5-liter V8 engine.