Hyundai Genesis (G80) Owner's Manual
---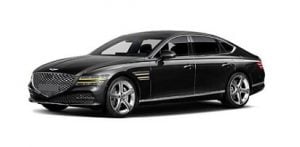 About The Genesis
The Hyundai Genesis went into production in 2008 as the company's new executive car.
It was also sold through its partner company Kia as the K9 as well with both company's working closely since the late 1990s.
Hyundai reportedly used the BMW 5-Series as inspiration for the model although this Genesis is considerably heavier.
It was offered with many of the same engine options including a larger V8 of 5-liters in displacement to match the M5 of the time.
Hyundai called their top engine offering the R-Spec and finished it with premium features such as sport-tuned suspension and luxury materials inside.
In 2013 the Genesis was spun-off into its own brand and given a new model name – the G80.
It remained the only model in the new Genesis brand until the G90 in 2015 and then the G70 two years after that.
This new model was built on the same platform as the G90 and was offered with four-wheel drive for the first time.
All of the new G80s were fitted with 8-speed automatic transmissions with a manual-shift mode built into them.
Engine choices within the second own-brand generation version of the car were lessened but Hyundai took the best sellers and focused their efforts on them.
The 5-liter V8 option had been carried over but the slightly smaller 4.4-liter option was removed.