Hyundai i10 Owner's Manual
---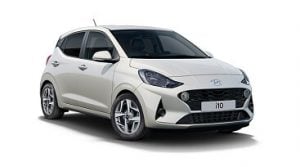 About The i10
The i10 is first and foremost a city car developed by the Korean car manufacturer, Hyundai. The i10's initial release took place in 2007 and replaced the Hyundai Atos.
It sits at the bottom of the company's offering in terms of size underneath the i20 and the i30.
Initially released as a 5-door hatchback, the i10s first generation was announced in New Delhi, India and was built at Hyundai's Chennai Plant for both domestic and export markets.
India received 5 variations of the vehicle, D-Lite, Era, Magna, Sportz and Asta, all of which had either a 1.1-liter Idrez engine or a 1.2-liter Kappa engine. For the European market, there were only four trim levels.
Hyundai created a car with a large interior in comparison to the exterior with sloping lines, a tall roof (to accommodate larger drivers) and an abrupt back end. 2010 saw a facelift of the vehicle, and after this, the i10 won a vast number of awards. For example, it won 'Car of the Year' in India.
The success of the i10 really took off in the UK following the local Government's Scrappage Scheme (a policy that encouraged people to trade in their older cars for brand new counterparts in an attempt to boost the economy).
The second generation began development in 2012 in India with an intended release date set in 2014. However, the European team took over design and development and was able to have the vehicle on sale by 2013. The European design team was headed up by Thomas Burkle. The new models featured automatic air conditioning, daytime running lights, curtain airbags, tire pressure sensors, heated steering wheels, 15-inch alloy wheels and rear parking alerts.
A third generation had a slight rename as the Grand i10 Nios, which was a wholly larger car, longer by wheelbase but slightly lower in head height in an attempt to increase aerodynamics. The countries the new vehicle did well in were India, Vietnam, Mexico and South Africa.