Hyundai Veloster Owner's Manual
---
You can find 8 different owner's manuals for the Hyundai Veloster on this page that are in the PDF format.
Yearly Veloster Owner's Manuals
The years available stretch from 2013 through to 2022 and to view the manual you just click the name underneath.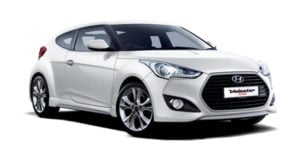 About The Veloster
Since 2011 the South Korean car manufacturer has been rolling the Hyundai Veloster off the production line and selling them all around the world.
The model was a replacement for the discontinued Tiburon line after 22 years of service and upgrades.
The car has many different options and features to choose from, which can be overwhelming for anyone.
That's why we have archived the various owner's manuals for the car with all the information you need to know about your new vehicle inside each one.
This Veloster is aimed at the youth market with a fun image and features popular with younger drivers such as a panoramic sunroof and the choice of bright color schemes.
The first generation was limited in the choice of engines that can be chosen, it was a 1.6-litre only but you had the option of the fuel type and a possible turbocharger for gasoline (turbo is standard for diesel).
Transmission options were a 6-speed manual, automatic or dual-clutch with the option of upgrading to a 7-speed dual-clutch.
Many special editions were released for the first generation including a rally version that featured the turbo engine with uprated suspension.
It was built on the Hyundai-Kia PB platform that it shares with popular models such as the Accent and Kia Rio of the time.
When the second-generation Veloster became available in 2018 the line-up of possible engines became more vast with a smaller 1.4-litre now available and a 2-litre gasoline or 2-litre turbo-diesel.
The transmissions were also revised with much more advanced units now available taking the gears up to a possible 8 with the dual-clutch gearbox.
Safety ratings for the Hyundai Veloster have always been good scoring 5 out of 5 with Euro NCAP and only falling a little behind when it comes to pedestrian tests.