Jaguar X-Type Owner's Manual
---
You can find 9 different owner's manuals for the Jaguar X-Type on this page that are in the PDF format.
Yearly X-Type Owner's Manuals
The years available stretch from 2001 through to 2009 and to view the manual you just click the name underneath.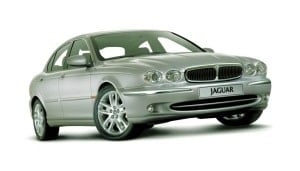 About The X-Type
The Jaguar X-Type is a compact executive car that was produced by Jaguar between 2001 and 2009. It was given the internal designation 'X400'. During its near-decade on the market, there was only a single generation released.
Many considered the X-Type to be a hugely important model for Jaguar's future success. However, with expected sales of 100,000 units per year, it only sold roughly 350,000 units over its entire eight-year run.
It features a 4-door sedan configuration with either front-wheel or all-wheel drive. There was also a 5-door station wagon version released.
Due to the Ford ownership at the time, the X-Type shared various similarities with the Ford Mondeo and Land Rover Freelander, which had the same platform. Like many Jaguar models, rivals come from the luxury German offerings like the BMW 3 Series and Mercedes-Benz C-Class.
Trim packages were limited to the base version and only two additional options. These were SE and Sport, which featured more classical and performance styling for the two trims respectively.
Powertrains included three petrol and two diesel options. The petrol versions range from the smallest engine, a 2.1-liter AJ20 V6 up to a 3-liter AJ30 V6. The two diesel engines were a 2-liter ZSD-420 inline-4 and a 2.2-liter ZSD-422 inline-4. Both diesel options were turbocharged.
Transmissions include the standard range of 5-speed and 6-speed manual and automatic gearboxes.
The X-Type was later replaced by the Jaguar XE in 2014. This was done to go up against the current German offerings in a more competitive manner.