Jeep Cherokee Owner Manual's
---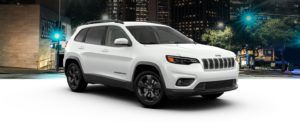 You can find 8 different owner's manuals for the Jeep Cherokee on this page that are in the PDF format.
The years available stretch from 2014 through to 2021 and to view the manual you just click the name to the left (or above if viewing by mobile).
About The Jeep Cherokee
The Jeep Cherokee badge has been used across a large range of vehicles sold by the off-road vehicle manufacturer from 1974 to the present day.
The name was based on the North American Indian tribe and is currently used by Jeep for their range of SUV's.
The manufacturer also has a range of slightly larger vehicles using a similar name, the Grand Cherokee which has larger engines and a more roomy interior.
The original 1970's Cherokee was a sporty 2 door off-road capable car designed to appeal to a younger market like the Ford Bronco.
Over the decades the car morphed into more of a family-sized 5 door family-sized SUV winning new fans through shaving off excess weight and increased mileage compared to the competition.
Common Problems With The Cherokee
Rattling trim – the interior can start to rattle and come loose with age, securing it back in place is usually easy and some adhesive gum could stop the rattling
Misfiring – buying updated spark plugs to replace the faulty originals will fix this original fault with the Cherokee
Folding mirrors – there is a large chance that you will have to replace the whole unit when the electric folding mirrors stop working
Suspension knocking – a common issue can be caused by the ball joints wearing and even caused a recall
Jeep Cherokee Oil Type
Inside the owner's manual you can find a reference to the oil type needed and the fill capacity. To make things easier we have a sister-site that lists the different trims of the Jeep Cherokee and the appropriate oil you need at OilType.co.