Jeep Cherokee Owner's Manual
---
You can find 10 different owner's manuals for the Jeep Cherokee on this page that are in the PDF format.
Looking For Mechanical Information?
An owner's manual is usually packed with guides on how to operate the car safely and how to maintain it.
If you require mechanical information (for fixing the car yourself for example) then you may need a workshop, service or repair manual instead.
Jeep Cherokee Service Manuals »

Yearly Cherokee Owner's Manuals
The years available stretch from 2014 through to 2023 and to view the manual you just click the name underneath.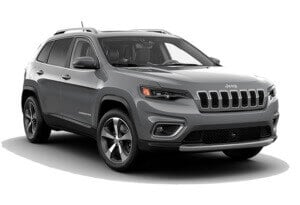 About The Cherokee
The Jeep Cherokee badge has been used across a large range of vehicles sold by the off-road vehicle manufacturer from 1974 to the present day.
Originally, the name was based on the North American Indian tribe and is currently used by Jeep for its range of SUVs.
Jeep also has a range of slightly larger vehicles using a similar name, the Grand Cherokee which has larger engines and a more roomy interior.
The original 1970's Cherokee was a sporty 2 door off-road capable car designed to appeal to a younger market like the Ford Bronco.
Over the decades the car morphed into more of a family-sized 5 door family-sized SUV winning new fans through shaving off excess weight and increased mileage compared to the competition.
Modern-day examples can be found sporting a variety of trim badges such as:
Briarwood
Chief
Classic
Country
High Altitude
Laredo
Latitude
Latitude Lux
Latitude Lux 80th Anniv
Latitude Plus
Limited
Overland
Pioneer
SE
Sport
Trailhawk
FAQ's
Q: Do Jeep Cherokees come in manual?
A: The most recent generation (as of 2021 and probably going forward) of Jeep Cherokee is only available with an automatic transmission.
---
Q: How do I get a Jeep Cherokee owners manual?
A: You will probably not buy your modern Jeep Cherokee with a printed owner's manual included, instead you need to access a digital one online. A PDF copy of the manual for the Jeep Cherokee is included on this site free or charge, or you can search the manufacturer's website.
---
Q: How often should I change the oil in my Jeep Cherokee?
A: According to the owner's manual, synthetic oil should be changed every 7,500 - 10,000 miles - whereas non-synthetic oil should be changed much more often, around every 3,000 - 5,000 miles.
---
Q: Do Jeep Cherokees have transmission problems?
A: According to research, the most complained about mechanical problem with the Cherokee model is the transmission. Most of the complaints mention improper shifting and some alarmingly refer to complete failure of the unit.
---
Q: How long will a Jeep Cherokee last?
A: A Jeep Cherokee should be expected to last 15 - 20 years with proper servicing and maintenance. This figure can be affected by the day-to-day use, climate and many other factors.