Kia Sorento Owner's Manual
---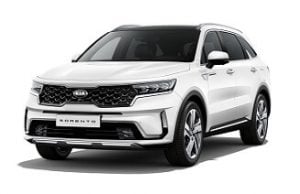 About The Sorento
Since the Kia Sorento hit showrooms in 2002 the seven-seat SUV has gained more and more sales.
Each year the sales on average have increased and looking back at its progress it's safe to say it comes down to its improving appearance and safety rating.
Buyers have always had a wide range of engines, transmissions and the ability to opt for a 2 wheel or 4 wheel drive drive-train.
Along with owning a car, it's important to know how to use it properly as well.
That is why Kia has created these owner's manuals so you can learn everything there is about your Sorento.
The most recent version of the Sorento made its debut in early 2020 with customers able to get their hands on their own in late 2020.
Underneath the modern models of this car is a platform that is shared with the Kia Sedona minivan.
Fourth-generation Kia Sorento's are noticeably larger than older examples and have put that extra room to good use in the cabin for the 3 rows of occupants.
Engine choices were usually very vast and the latest model is no exception though the displacement across the range is a lot smaller.
These smaller engines pack the same punch through improved technology ranging from a 1.6 through to 2.5 litre turbocharged diesel.
Alongside the engine choices the trim levels were reduced down to a simple list:
The transmissions in the newer models are limited to an 8 speed automatic or 8-speed dual-clutch manual option.
Technological features in the 2020 Sorento include a multi-collision brake system, smartphone connectivity and a hybrid option.