Kia Telluride Owner's Manual
---
You can find 4 different owner's manuals for the Kia Telluride on this page that are in the PDF format.
Yearly Telluride Owner's Manuals
The years available stretch from 2020 through to 2023 and to view the manual you just click the name underneath.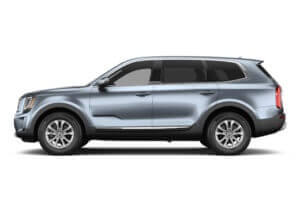 About The Telluride
Production of the Kia Telluride started in 2019 with customers getting delivery of the new mid-size crossover SUV in 2020.
Straight away the car received an award for being the "World Car of the Year 2020", a prize given to cars that are sold across at least 5 countries and 2 continents.
If you have recently purchased this vehicle or are considering purchasing it, then you will need to know how to use it properly so that your driving experience goes smoothly.
That's why Kia compiled these manual PDFs with useful information about how to operate your new vehicle.
Engine choices are restricted as customers have only the choice of a 3.8-liter V6 mated to an 8 speed automatic only.
Mechanically the Telluride is very similar to the Hyundai Palisade and shares many of the same parts underneath such as the engine, transmission and chassis.
It also shares a similar platform to the Kia Sorento which is another SUV from the South Korean automobile manufacturer.
Trim choices for buyers consist of 4 options:
LX – the base entry-level trim
S – another base level trim with slightly sportier exterior features such as a different grille and alloy wheels
EX – the next level up contains electric folding mirrors and comfort features such as sound-absorbing windows
SX – the top-end trim sports a darker look and more technology such as LED front lights and reverse-tilt window mirrors
Buyers of the top trim are also able to upgrade that to the "SX Prestige Package" which adds four-wheel drive and heated seats.
The upgraded top-level trim also features a touch-screen console in the dashboard that has connectivity for mobile devices from Apple and on the Android mobile operating system.