Hyundai Palisade Owner's Manual
---
You can find 6 different owner's manuals for the Hyundai Palisade on this page that are in the PDF format.
Yearly Palisade Owner's Manuals
The years available stretch from 2020 through to 2024 and to view the manual you just click the name underneath.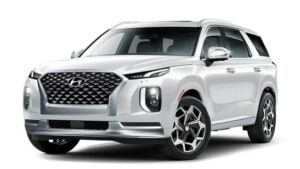 About The Palisade
Sharing many of the same mechanical parts as the Kia Telluride, the Hyundai Palisade is also very similar in appearance.
Both SUVs are classed as mid-size crossover's and both sell in similar numbers in the USA (2020).
Being a crossover SUV means it doesn't have the heavy off-road equipment you would find on a Jeep Wrangler but does have a spacey interior.
The 2 models do have different engine options but both share the same single option of transmission: an 8 speed automatic.
No manual version of the Palisade exists and as it is being assembled in the USA and marketed to that region it is doubtful it will be added in the future.
Customers can choose a modest 2.2 (China only) or 3.8-liter turbo-diesel or a gasoline-fueled 3.5 liter V6 to power their Palisade.
At the point of purchase, the drivetrain can also be switched from the standard front-wheel drive to a four-wheel drive if requested, although slightly heavier (just over 10% heavier).
This Palisade model went into production a year earlier than the Telluride and is assembled in Kentucky, USA rather than in South Korea like its brother model.
First models were built in 2018 with customers getting deliveries of their SUVs in early 2020.
Introduced as a replacement for the Santa Fe range the car is the flagship SUV model for the auto manufacturer and the company's largest vehicle yet.
Safety features included with this model as standard are phenomenal with sensors to detect children and pets inside to prevent them from being accidentally locked in.
Choosing the right trim is important as it will represent the level of comfort and features included in your car when buying new, trims available include:
The base-level SE
The mid-level SEL
The upscale SEL Plus
The high-level of comfort Luxury Limited
Top-of-the-line Ultimate
Other groundbreaking technologies included with the Hyundai Palisade include rear-cross traffic alert and collision-avoidance assist.
This addition of new technology is causing many drivers to flock to their owner manuals to learn about these amazing features.