2020 Mitsubishi Triton Owner's Manual
---
You can view the 2020 Mitsubishi Triton Owner's Manual further down the page underneath the image of the cover.
Clicking on the "view full screen" button will take you to a full screen version of the manual.
Manual Cover

2020 Triton (L200)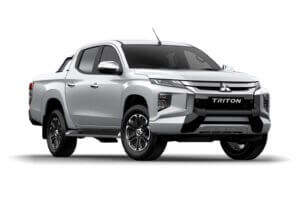 The Mitsubishi Triton is an old marque for Mitsubishi going back 4 decades. The model was sold in the US before under the name the Mighty Max, and was also rebadged as a Dodge Ram 50, but is no longer there.
It's most popular in Thailand and Australia, where it continues to be a top-selling 4WD pickup truck model. The 2020 model year was an opportune time to buy one, too, because it received a design facelift in 2019, part of the fifth-generation models.
The 2019 facelift brought a new front fascia, a teardrop taillight design, as well as some tweaks to the interior. A rear air circulator was installed on the interior roof. Many of the design cues were taken from other Mitsubishi models like the Pajero, Eclipse Cross and Xpander.
On the outside, the Triton features powerful lines and an imposing frame. The front-end especially combines terrific styling with the chrome finishes around the grille and parts framing the headlights. These are nice touches considering that Mitsubishi has not been too worried about the "bling" factor on this pickup.
When it's out on the road, the best-performing engine is the 2.4L turbo diesel engine, but it's also available with a 2.4L gasoline engine, as well as a 2.5L turbo diesel. A 2WD version was also made to be more budget-friendly for those buying a Triton more as a daily runaround rather than as a true utility vehicle.
Another big upgrade for the 2020 Mitsubishi Triton was the suspension with double-wishbone, springs and stabilizer bar at the front, and leaf spring in the rear. The combination makes for a very composed and comfortable ride.
The payload capacity of the 2020 Triton is 2083-lbs, the braked towing capacity is 1654-lbs, and unbraked towing capacity 6834-lbs.