Nissan Ariya Owner's Manual
---
You can find 2 different owner's manuals for the Nissan Ariya on this page that are in the PDF format.
Yearly Ariya Owner's Manuals
The years available stretch from 2022 through to 2023 and to view the manual you just click the name underneath.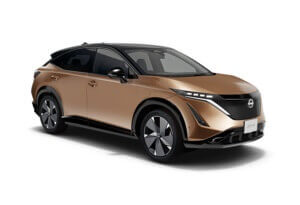 About The Ariya
The Nissan Ariya is a new fully-electric compact crossover SUV that hit the market in 2022. Despite only being released in 2022, the model made its debut in 2020. Unfortunately, its release was halted due to the pandemic causing a shortage of parts.
Not to be confused with the Ariya Single Seater, which is a Formula E concept car that was unveiled in 2021, the model features a 5-door layout found on most SUVs.
Being in the fully-electric crossover class puts the Ariya up against the likes of the Kia EV6, Volvo C40, Audi Q4 e-Tron, and Hyundai Ioniq 5.
Nissan released four versions of the model based on battery options. These consist of the base 63 kWh and 87 kWh battery options, capable of providing 161 kW and 180 kW respectively. Interestingly, there is almost no upgrade in performance due to the added weight of the larger power pack.
Optional for the larger battery is Nissan's E-4ORCE all-wheel drivetrain. However, the smaller version comes with only front-wheel drive.
These dual motor variants can provide 228 kW and 293 kW depending on battery choice. While there is certainly a boost in performance in terms of power, the AWD variants suffer some noticeable range issues.
The estimated range varies between 250 and 315 miles for the FWD version, while the larger AWD option reduces mileage to only 255 miles.
The styling for the Ariya has been critiqued as Japanese minimalist, particularly when it comes to its interior. While it has gotten credit for doing this well, it is also late to the party as this type of minimalism appears to only be a nod to the existing BMW iX.