Nissan Maxima Owner's Manual
---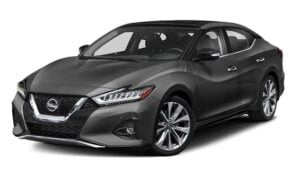 About The Maxima
First hitting the showrooms in 1980 the Nissan Maxima has been the auto manufacturer's flagship full-size sedan originally marketed under the Datsun brand.
This Maxima was originally created as a replacement for the 810 models sold by Datsun.
Originally the car was a 5 speed manual with an optional 3 speed automatic if the upgrade was desired by the customer.
Over the years the size of engine choices changed slightly but a V6 was always available and automatic transmission, important for the North American market.
Now the latest version of the car is powered by a 3.5-liter V6 connected to a CVT that drives the front wheels and is packed full of modern technology.
With the right information, you can learn how to properly use these features and enjoy your car for many years.
The owner's manuals for this vehicle have detailed instructions on everything from using the headlights to changing the oil filter.
You can find the appropriate manual for your model by finding the correct model year to the left (or above if viewing on mobile device).
It is sold in a variety of different trims when bought new including S, SE, SL, SV Platinum and S.
The most recent generation (2016 onward) is also built on the same platform as many other Renault's and Nissan's such as the Nissan Quest and Nissan Altima.
This 2016 version boasts a 5.9 second 0-60 distancing itself far from being a slow and heavy family car that it may appear as at first glance.