Nissan Juke Owner's Manual
---
You can find 10 different owner's manuals for the Nissan Juke on this page that are in the PDF format.
Yearly Juke Owner's Manuals
The years available stretch from 2013 through to 2023 and to view the manual you just click the name underneath.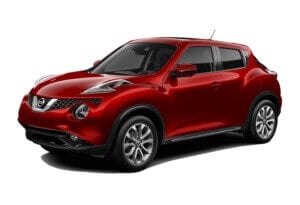 About The Juke
Production of the Nissan Juke began in 2010 in Japan, the UK and Indonesia.
These owner's manuals listed on this page will give you an in-depth tutorial on how to use your new Juke.
They go over the basics like turning on the lights and heating up the seats, as well as more advanced features like programming your GPS or changing your oil.
First Generation Juke
Engine choices for the first generation were all roughly the same (around the 1.5-litre mark) though buyers did have the choice of petrol or diesel-fueled units.
Transmission choices were much more vast with a manual, automatic, a CVT and a dual-clutch gearbox all available to choose from.
If you wanted to upgrade your Juke though you did have the option of the Juke-R trim that implants a 3.8 litre twin-turbo V6 engine from the GT-R under the hood.
You will find it hard to discover examples of the 545bhp Juke-R though as only 23 of them were built in the 2013 model year.
Aside from the performance trim, the car was offered in one of 3 other trims such as S, SL or SV that controlled the level of features in the car and set the price.
The Juke was replaced by the Kicks model that is slightly larger though still a subcompact crossover SUV, although the line does still continue to be made today.
Modern models of the car are in their second generation (2019+) where the line was vastly changed under the hood to accommodate a turbocharged 1-litre petrol engine for the Chinese market.
Looking at the exterior of the new Nissan Juke's they do look very similar to the old ones and also feature a new 7-speed automatic transmission option.
Underneath the newer examples is a chassis shared among many other small cars from the parent brand such as the Renault Clio and Dacia Logan.