Nissan Xterra Owner's Manual
---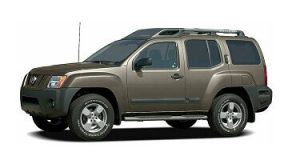 About The Xterra
The Nissan Xterra was always classed as a compact SUV since it entered production in 1999.
Nissan took many of the same parts from the Frontier pickup truck and used them to create the original Xterra.
Then when the company introduced the second-generation model in 2005 it had been planted onto the F-Alpha platform.
This new platform was shared with the Frontier still but also with many other models including the Armada and Titan.
It was because of this that the truck was now much larger but still sat inside the compact SUV classification.
The various owner's manuals on this page cover every detail of the car and how to maintain it, from basic maintenance like changing tires and replacing wiper blades to more complicated things like adjusting suspension settings.
With the first generation, you could buy the Xterra with one of a wide range of gasoline and diesel engines.
When the second-generation entered showrooms that choice was reduced way down to just one, a 4-liter gasoline V6.
You still had the option of the engine being mated to either an automatic or manual transmission with a locking differential in the rear for offroading.
The Xterra was known for offering an affordable rugged off-road-capable SUV for a good value price and luxury wasn't a priority.
It stood out against competitors because of this as many companies embraced the luxurious side of the SUV world to make big money.
The Nissan Xterra was discontinued after the 2015 model year due to poor sales and the potential cost of improving the fuel economy and safety expected from modern cars.