Peugeot 107 Owner's Manual
---
You can find 10 different owner's manuals for the Peugeot 107 on this page that are in the PDF format.
Yearly 107 Owner's Manuals
The years available stretch from 2005 through to 2014 and to view the manual you just click the name underneath.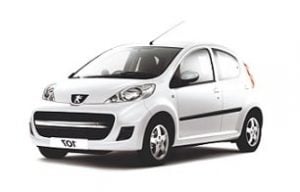 About The 107
The 107 was a city car predominantly developed and created by the French car manufacturer Peugeot in 2005. The 107 was the result of a combined effort from the group PSA Peugeot Citroen and Toyota.
This cost-saving amalgamation resulted in many differently badged variations built at the TPCA Plant in Kolin, Czech Republic. This model was used for the Toyota Aygo and the Citroen C1, all small city cars.
The 107 had only 4 seats, was available in either a 3-door or 5-door configuration and directly replaced the 106. After just 4 years of production, Peugeot restyled the 107 and gave it a facelift, perhaps to better the distinction between the C1, 107 and the Aygo. Both the other vehicles also had an upgrade at this time. There were more colors added to the range and the fuel economy shifted from 61 mpg to 62.8 mph.
In terms of reliability, the 107 did very well, one of the most notable reviews came from the German Automobile Club in 2010, voting the 107 the top of its class (sub-small car class). In doing so, it beat its sister vehicles, the Aygo and C1. Unfortunately, this accolade was short-lived as soon after, Toyota recalled over 100,000 of its units worldwide, which obviously extended to the C1 and the 107 along with the Aygo. The problem proved serious as it involved the accelerator pedal which was reported to either stick solid, or continue to slowly return to the off position.
For safety, the 107 scored a 4 out of 5 for adult safety and a 4 out of 5 stars for child safety, which was a fairly respectable score given the size and years of the car in which it was produced.
Unfortunately, Euro NCAP only awarded the 107 50% for pedestrian safety.