Peugeot 307 (incl. CC) Owner's Manual
---
You can find 18 different owner's manuals for the Peugeot 307 (incl. CC) on this page that are in the PDF format.
Yearly 307 Owner's Manuals
The years available stretch from 2001 through to 2011 and to view the manual you just click the name underneath.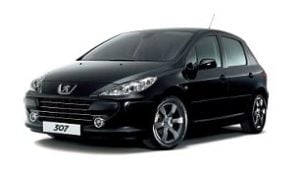 About The 307
The 307 is a small car that was created by the French automaker Peugeot as part of the PSA Peugeot Citroen group between the years 2001 – 2008 in Europe.
It replaced the 306, a fairly successful car that spanned 9 years. The 307 was built on the PSA PFZ Platform and won European car of the year a year after its release in 2002. Despite the name badge suggesting that the 307 was a direct replacement for the 306, the 307 was significantly larger but retained a similar styling.
This new 307 had Peugeot trademark sweeping front lights and sloping windscreen and bonnet. Its size made it quite difficult to categorize, with numerous car reviews referring to it as either a small city car or a compact multi-purpose vehicle. To emphasize the car's substantial rigidity and space for its size, the marketing commercial used the song 'something inside so strong' by Labi Siffre.
The Peugeot 307 had three main competitors that matched it equally in size and equipment. Top Gear took the 307 and its rivals in 2005, the Honda Civic and Ford Focus and tested them extensively. Overall, it was shown that the 307 was easily the best for refinement, running cost, handling, space and price, as a result, the 307 was a clear winner.
When other car manufacturers saw how well the 307 and the other two small cars were received, the next decade saw a sharp increase in the number of small yet spacious cars available. This created great competition for the 307 and sales slowed when better models became available at cheaper prices.
It was considered that the 307 ultimately was a victim of its own success having blazed a trail for the new category of vehicles.
A facelift saw a larger air intake installed and cosmetic changes made to both bonnet and bumper. Despite the 307 having been originally designed as a 3 or 5-door hatchback, two estate versions were released a few years later, the 307 breaks and the 307 SW. There was little difference between these models, namely the addition of silver roof bars and a panoramic glass sunroof on the premium version.