Peugeot 807 Owner's Manual
---
You can find 13 different owner's manuals for the Peugeot 807 on this page that are in the PDF format.
Yearly 807 Owner's Manuals
The years available stretch from 2002 through to 2014 and to view the manual you just click the name underneath.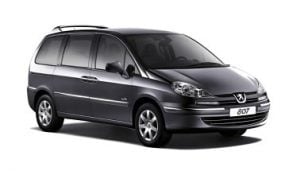 About The 807
The Peugeot 807 was a model found in the Eurovan range that was sold between 2002 and 2014 by the French carmaker. It came as the second generation to the Peugeot 806, which was on the market from 1994 until the release of the newer version.
During their time on the market, both versions fell into the passenger carrier or multipurpose vehicle class.
It is considered to be a rebadged version of various Eurovans. These include the Citroën C8 and Fiat Ulysse.
All of these Eurovans are built at the same factory, the Sevel Nord factory in France. This results in all of these vans, the 807 included, being built on the Sevel Nord van platform.
Competition from manufacturers outside of PSA Group includes the Ford Galaxy and Renault Espace.
The Peugeot 807 was offered in four different rim levels. These consisted of the base LX, followed by the GLX, Executive, and finally the Executive SE.
These trim levels came with the option of various powertrains. Peugeot offered two diesel and two petrol engines. However, these engines were simply different versions of the same 2-liter powertrain and were tuned for varying power outputs. There was also a 2.2-liter HDi version released.
Transmissions consisted of only a 4-speed automatic or a 5-speed manual at the beginning of production. However, a 6-speed manual option was introduced in certain markets later on.
The Eurovan range was discontinued at different times for various reasons. Production for the Peugeot 807 was ended in 2014 to make way for new models.