Renault Arkana Owner's Manual
---
You can find 5 different owner's manuals for the Renault Arkana on this page that are in the PDF format.
Yearly Arkana Owner's Manuals
The years available stretch from 2019 through to 2023 and to view the manual you just click the name underneath.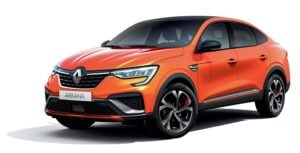 About The Arkana
Production of the Renault Arkana began in mid-2019 when it was being built on top of the Dacia Duster platform.
In 2020 the design of the car was refreshed and this time it was built on the more modern CMF-B platform used by models such as the Renault Clio and Nissan Juke.
It was first put on sale in Russian before entering South Korea and then slowly making its way to European markets.
Inside of the car, it is laid out much like the Zoe and Clio, with a large center console featuring the heating and ventilation controls.
This Arkana model is the first coupe SUV from the French automaker and has also been on sale through its partner Samsung as the XM3.
Engine options are pretty limited but there is a plug-in hybrid option for larger engine size, whereas the smaller engine has a mild-hybrid system included.
You can learn about the mass of features built into the car by flicking through the PDF versions of the Renault Arkana owner's manuals.
Choose the appropriate year that you are looking for from the list on this page and you will find an embedded copy of the manual to read, download or print off.