Dacia Duster Owner's Manual
---
You can find 14 different owner's manuals for the Dacia Duster on this page that are in the PDF format.
Yearly Duster Owner's Manuals
The years available stretch from 2010 through to 2023 and to view the manual you just click the name underneath.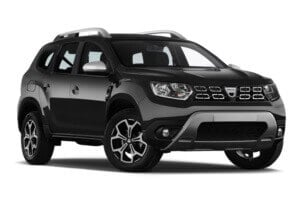 About The Duster
Since production began in 2009 the Dacia Duster has been a "best-selling" compact SUV scooping up many awards from motoring publications.
The Duster has scored the title of "European Car of the Year", "Scottish Car of the Year" and "Indian Car of the Year" among many others.
In India, Russia and South Africa, the car isn't sold under the Dacia badge it's marketed as a Renault who has owned the car manufacturer since 1999.
Underneath the car, you will find the same platform used by the Dacia Logan and Renault Captur.
Unlike many of the other cars available from the Czech manufacturer, this model features many added safety equipment systems such as ABS and Electronic Stability Control.
These features are controlled by the level of trim you purchase the car with when ordering it new, options include:
Access
Comfort
Essential
Prestige
SE Twenty
Techroad
Unfortunately with these added extra safety features the car still only scores 3 out of 5 stars for the Euro NCAP test and with the introduction of the 2nd generation in 2017 it didn't improve.
To learn how to use these safety features you can refer to the owner's manuals linked to from this page by model year.
In 2020 a pick-up truck version of the Dacia Duster was introduced as a cheap way for emerging markets to buy a load moving vehicle.
The car can be seen competing in rally championships and the Dakar though under the shell the competing vehicle is very different from the one on sale in showrooms.