Škoda Scala Owner's Manual
---
You can find 4 different owner's manuals for the Škoda Scala on this page that are in the PDF format.
Yearly Škoda Scala Owner's Manuals
The years available stretch from 2019 through to 2022 and to view the manual you just click the name underneath.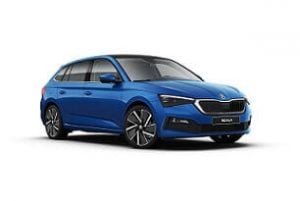 About The Škoda Scala
The Skoda Scala is classed as a small family car and went into production in 2019.
These owner's manuals help you better understand all of the different models available as well as how to maintain your vehicle.
It sits upon the same chassis as the Kamiq, which itself shares with the popular Volkswagen Polo.
Unlike the Kamiq though this is not a crossover SUV and its most obvious difference is the height, the Scala is shorter and not as long.
It shares all the same engines with the Kamiq, ranging from a small 1-liter turbocharged gasoline all the way through to a torquey 1.6-liter turbodiesel.
A compressed natural gas drivetrain is also on offer that takes advantage of the growing network of pumps and suppliers springing up.
The car is sold in one of three trims that determine the level of features, the current choices are:
This Scala is the first car built by Skoda that some with a constant internet connection that uses a sim card to connect to the 4G network.
It means that the car can be accessed using a smartphone with functions such as remote start and unlocking possible through an app.
Alongside this is several high-tech features including blind-spot monitoring and a digital instrument cluster that works alongside the touchscreen infotainment system.
Underneath, the suspension is adjustable – offering 2 modes that control the stiffness of the shock absorbers and the height of the car on the fly.