Skoda Fabia Owner's Manual
---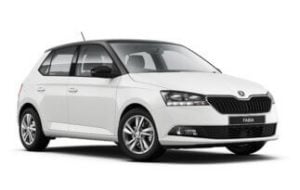 About The Fabia
To take over from the Felicia range the Czech car manufacturer brought in a new revised compact car they call the Skoda Fabia.
These are copies of the official Fabia owner's manual.
They contain information on how to maintain and use your car in the safest possible way.
You will find detailed specifications, safety tips, illustrations of the parts of the car, and much more.
The compact car market is a fierce one with many strong competitors such as the Toyota Corolla and the Mazda3.
Production of the new car began in 1999 and underneath shared the same platform as the Volkswagen Polo and Seat Ibiza.
Within its first year of customers getting their hands-on examples, the Fabia won an award from a UK motoring publication for being the "Car of the Year".
Engine choices were vast for such a compact car, ranging from a modest 1-litre petrol through to a torquey 1.9-litre turbo-diesel for the vRS trim.
The vRS trim (introduced in 2013) was the company's performance version that can be applied to most of their range, such as the Octavia vRS.
Alongside a more powerful engine, the Fabia vRS featured a 6-speed manual gearbox to apply the high-powered engine to the road effectively.
Customers went wild for the vRS version not just for the addition of more power but also for the car's ability to be economical when not pushed hard.
With the introduction of the second generation of design in 2014, the vRS trim was discontinued from the car until several years later when it made a re-appearance.
Although the choice of vRS was dropped many other trims were kept on the ordering sheet including:
Colour Edition
Monte Carlo
Redline
S
SE
SE Drive
SE L
Safety ratings have improved with each redesign of the car and the latest models (generation 3 – 2015+) achieve an impressive 5 out of 5 stars from Euro NCAP.
Under the newest version, you will find the platform it shares with various other Volkswagen brand cars such as the Polo and Skoda Rapid.