Toyota Prado Owner's Manual
---
You can find 13 different owner's manuals for the Toyota Prado on this page that are in the PDF format.
Yearly Prado Owner's Manuals
The years available stretch from 2011 through to 2023 and to view the manual you just click the name underneath.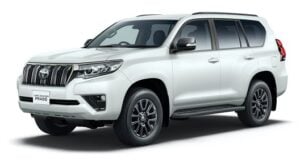 About The Prado
The Toyota Prado is the slightly smaller version of the Land Cruiser, it is classed as a mid-size SUV whereas the Land Cruiser is a full-size SUV.
Around the world, the car is sold under various different names including Land Cruiser LC70, LC90, LC120 and LC150.
In the USA the model isn't on sale and instead Toyota focus on its luxurious sub-brands model the Lexus GX to occupy that space within the market.
Originally the Prado started out life in the 1980s as an entry-level short-wheelbase version of the Land Cruiser.
Over the years the SUV has gone on to be seen as more of a luxury version of the car instead.
Underneath the car is a ladder-on-frame chassis construction which makes the Prado strong and helps it perform well off-road.
It is also fitted with 2 transfer boxes that allow the driver to switch from an on-road set of gears to an off-road one.
All of this off-road equipment does add to the weight of the car but helps it perform especially well off-road.
In recent years the trend has moved towards crossover SUVs that lack these additional features but boast the large cab size for occupants and technology.
Popular crossover SUVs on the market right now include the Toyota RAV4 and the modern versions of the Ford Explorer.
You can find the owner's manuals for those cars as well as this Toyota Prado on this site in PDF format that is easily viewed, downloaded or printed out.