Toyota Sienna Owner's Manual
---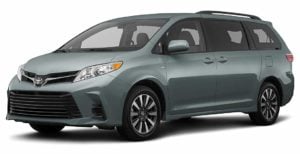 You can find 24 different owner's manuals for the Toyota Sienna on this page that are in the PDF format.
The years available stretch from 1998 through to 2021 and to view the manual you just click the name to the left (or above if viewing by mobile).
About The Toyota Sienna
From late 1997 the Sienna minivan from Toyota has been a common sight on roads in the North America region.
The car is known for its amazing safety record making it an ideal family car ensuring the occupants are safe during a collision.
So far the minivan has gone through four generations of redesign and many engine variations with a hybrid version first offered in the 2020 version.
As any minivan owner knows, packing many passengers in is important and the Sienna has never disappointed with 3 rows of seating available to pack the vehicle out.
Common Problems With The Sienna
Electric windows – a common and costly failure in the Sienna's with electric windows fitted is the failure of motors and cables. The fix for this can be upwards of $2,000
Dashboard – a strange aesthetic issue with the Sienna is large cracks appearing on the dashboard resulting in a large bill for a replacement
Oxygen sensor – commonly reported online is the failure of the oxygen sensor in the system that feeds air to the engine after the car has driven around 60,000 miles
Oil – the oil system is prone to leaking and losing pressure in older Toyota Sienna models. Leaving the owner with large bills as the garage try to hunt down the cause and fix it