Toyota Sienna Owner's Manual
---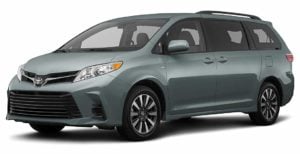 About The Sienna
From late 1997 the Sienna minivan from Toyota has been a common sight on roads in the North American region.
We have all of the information that you need to know about your Sienna in one convenient location within these owner's manuals.
With detailed instructions on how to operate and maintain your car, all free of charge, you have no reason not to find the answer you need.
The car is known for its amazing safety record making it an ideal family car ensuring the occupants are safe during a collision.
So far the minivan has gone through four generations of redesign and many engine variations with a hybrid version first offered in the 2020 version.
As any minivan owner knows, packing many passengers in is important and the Sienna has never disappointed with 3 rows of seating available to pack the vehicle out.
Among the modern versions of the minivan is a variety of different trims that control the level of features such as:
CE
L
LE
Limited
Limited Premium
Platinum
SE
SE Premium
XLE
XLE Limited
XLE Premium
XSE