Mazda Mazda2 Owner's Manual
---
You can find 10 different owner's manuals for the Mazda Mazda2 on this page that are in the PDF format.
Yearly 2 Owner's Manuals
The years available stretch from 2014 through to 2023 and to view the manual you just click the name underneath.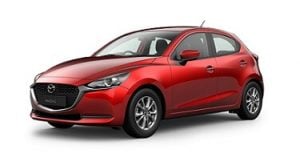 About The Mazda2
Replacing the Demio/121 model as the company's new supermini was the Mazda2 in 2002.
The supermini segment of the auto market is a fierce one with many strong competitors popping up in the 1990s such as the Renault Clio and the Vauxhall Corsa.
To create this Mazda2 the Japanese automaker took the D platform that was eventually used under the Toyota Yaris.
It was also rebadged as the Ford Fusion that was put on sale in Europe as well as several other markets for a short period of time.
The first models that hit the road in the early 2000s were fitted with safety features rarely seen in its segment of the market.
As standard, the Mazda2 was fitted with ABS, electronic-brake-distribution and stability control systems.
European models also featured the pedals from the Ford Fiesta whereas the rest of the world had some that were created in-house.
Buyers could choose from a range of engines that started at 1.25-liters in size and went all the way up to a 1.6-liters.
A second-generation version of the Mazda2 came in during 2007 with a lower roofline and reduced overall weight and size.
For some markets, a sedan version of the car was launched, such as in China and Thailand called the "Maxx" version.
In 2014 the Mazda2 entered its third generation and was now built on a shortened version of the CX-5 platform.
This led to the car being larger than before and to match the increase in size and weight the engine options were revised upwards.
A hybrid system was no being included with the car (previously only available in Japan) that used the starter motor to capture lost potential energy during braking.
In North America, the car was also being marketed as the Toyota Yaris and the Scion iA with varying features and luxury among the models.