Volkswagen ID.3 Owner's Manual
---
You can find 4 different owner's manuals for the Volkswagen ID.3 on this page that are in the PDF format.
Yearly ID.3 Owner's Manuals
The years available stretch from 2019 through to 2022 and to view the manual you just click the name underneath.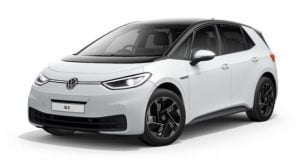 About The Volkswagen ID.3
Production of the Volkswagen ID.3 began in 2019 at the Zwickau-Mosel factory in Germany.
It is the first of the ID range of all-electric cars put out by the long-established automaker with many more due to be released over the next 5 years.
This model is classed as a compact car with various other styles of the car due to be released using the same MEB platform.
Shortly after the release of this ID.3 came the ID.4, a compact crossover SUV sharing the same chassis dimensions but with a taller body.
Both of which have owner's manuals you can find on this site in PDF format for easy viewing.
As soon as the car was announced it received 10,000 orders and before production even started it had hit 30,000 pre-orders.
These models were based on a concept car called the I.D. that was exhibited at the 2016 Paris Motor Show and used cameras instead of wing mirrors.
You can also find this car on sale under the performance wing of SEAT as the Cupra Born, sharing the same platform and technology with a slightly different and sportier body.
It is available in 3 different battery choices that you can also match with 3 different trims:
Pure – a 48kWh that can provide up to 205 miles of range for 5 passengers
Pro – a 62kWh that can provide up to 260 miles of range for 5 passengers
Pro S – a much larger 82kWh that can provide up to 340 miles of range for 4 or 5 passengers
The three different trim levels are 1st, 1st Plus and 1st Max come with a varying amount of features and all have different-sized wheels ranging from 18-inch to 20-inch.