Volvo V40 (incl. Cross Country) Owner's Manual
---
You can find 14 different owner's manuals for the Volvo V40 (incl. Cross Country) on this page that are in the PDF format.
Yearly V40 Owner's Manuals
The years available stretch from 2013 through to 2019 and to view the manual you just click the name underneath.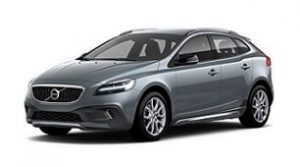 About The V40
A small family car, the V40 was built by the Swedish automaker Volvo between the years 2012 and 2019. First shown at the Geneva Motor Show, sales began in Europe and the UK with a number of high-tech safety features making it attractive to numerous demographics.
The V40 was designed by Chris Benjamin, and American designer who worked for Daimler for 7 years and currently holds the position of Vice President of Interior design for Stellantis.
Built upon the Global C platform (also seen under the Volvo C30 and the Ford Kuga/Escape), the V40 had two petrol engines, a 1.6-liter EcoBoost I4 producing 150 bhp and 180 bhp, and a 2.5-liter with 254 bhp; and two diesel variants. Volvo installed a number of safety features, like 'IntelliSafe,' which essentially warned of collisions with an auto brake system that could prevent potential impacts. This system worked by using radar and camera sensors and upon detecting, for example, a pedestrian, would bring the car to a complete halt. Cyclist detection worked in the same way, and upon automatically braking, the seatbelts would react to reduce slack and prevent passenger injury.
The V40 could also be purchased as a Cross Country version, these models had protective body panels, larger wheels and tires, a higher ride height, hill decent control and a range of more powerful engines.
2016 saw a new facelift that featured 'Thor's Hammer Headlights' which could also be found on the XC9011, S9011 and the V9011. Winning 'Best executive hatchback,' and voted best Scottish car of the year, the V40 received a number of awards and accolades including 'best medium family car' from carsite.co.uk.