You can find 7 different owner's manuals for the Volvo C30 on this page that are in the PDF format.
Yearly C30 Owner's Manuals
The years available stretch from 2007 through to 2013 and to view the manual you just click the name underneath.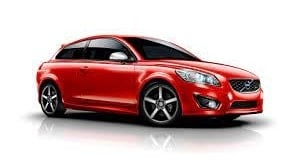 About The C30
A premium compact hatchback with 2 doors and a front engine configuration, the C30 was a car built by the Swedish car manufacturer Volvo between 2006 and 2013.
With a relatively short run of only 7 years, the C30 only had one generation and was built with Inline-4 and straight-5 engines.
Sharing the Ford C1/Volvo P1 Platform with the S40, V50 and C70, the C30 shared many of its other components with the Volvo S40.
Unveiled at the Paris Motor Show, the European engines were 1.6-liter petrol and diesel as well as a 2.5-liter inline-5 turbo (2.4-liter diesel).
For the UK, the trim levels were SE and SE Lux, and for Europe, these were Kinetic, Momentum and Summum.
This C30 was released a year later in America & Canada, and had the option to upgrade to the Polestar performance variant.
Volvo installed excellent audio packages in these cars, where the purchaser could choose from a variety of options, these were Performance, High performance, or the top-end Premium Sound. The latter came with CD, MP3 and WMA capabilities.
The marketing strategy was to push the C30's safety features, of which this vehicle had many, namely IntelliSafe, blind spot information, electric stability monitoring, traction control and side curtain airbags.
Awarded 'Top safety pick' by the Insurance Institute for Highway Safety, the C30 had a patented structure that could absorb and redistribute the energy upon impact.
2010 aw an update with a new front design and 'wavier' rear end. A new orange flame color was added to the range and an optional external sports package was made available.
The limited edition C30 Efficiency sat lower with a spoiler fixed to the roof and 16-inch alloy wheels.
Another special edition was the c30Boston Red Sox. Only 107 of these were created; as one would expect, they were red in color with the Sox logo emblazoned across the rear glass.