You can find 9 different owner's manuals for the Volvo V50 on this page that are in the PDF format.
Yearly V50 Owner's Manuals
The years available stretch from 2004 through to 2012 and to view the manual you just click the name underneath.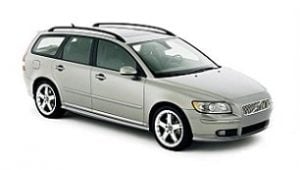 About The V50
The V50 is a station wagon built by the Swedish car manufacturer Volvo between the years 2004 and 2012. It replaced the original V40 model but was also replaced by the V40 when it was retired in 2012.
Running for just 8 years, the V50 was marketed as a small family car and production began in the Ghent Assembly plant in Belgium. Showcasing at the Bologna Motor Show, the V50 was built upon the Ford C1 Platform along with the similarly sized Ford Focus and Mazda 3.
An interior 'theatre light' accentuated the floating center stack, and by using the 'Volvo Intelligent Vehicle Architecture,' the V50 benefitted from more space, better reduction of emissions and faster acceleration. A differently positioned in-line 6-cylinder engine meant that space inside the vehicle was further maximized. Volvo situated the engine so that the only warm side faced the interior, and the colder side faced towards the exhaust fumes and catalytic converter helping towards lower emissions.
Although seemingly small on the outside, when the rear boot is open, the trunk space looks vast. To add even more storage, cargo and be stored under a hatch in the boot under the floor.
In 2004, the V50 underwent the Euro NCAP tests in which it did fairly well, for adult safety, it scored a 5 out of a possible 5 stars, for children, a 4 out of 5 was achieved, but for pedestrians, the rating was only 50%.
A special edition, the V50 T5 AWD contained a straight-5 2.5-liter all-wheel drive configuration and had variable camshaft timing. Only a diesel variation was released in Europe, and in 2008, the V50 underwent a facelift which affected the front styling, interior, audio system and a power increase.
Volvo increased the size and changed the logo slightly on the badge at the front. 2011 saw the last V50 to roll off the production line in the USA and Canada.