2016 Cadillac SRX Owner's Manual
---
You can view the 2016 Cadillac SRX Owner's Manual further down the page underneath the image of the cover.
Clicking on the "view full screen" button will take you to a full screen version of the manual.
Manual Cover
2016 SRX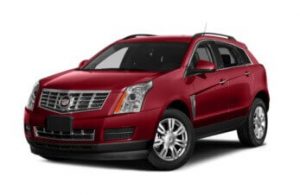 The Cadillac SRX was one of Cadillac's early forays into the world of mid-size luxury SUVs, first manufactured in 2003 for the 2004 model year. Its production life covered 2 generations, the first from 2004 to 2009, and the second from 2010 to 2016.
The first-generation SRX models were marketed as mid-size luxury SUVs, but the second generation was sold as compact crossover luxury SUVs. The first-generation models even tried to include a third seating row to make it a 7-passenger vehicle.
The second-generation models were made smaller, still with 5 doors but now committing to just 2 seating rows, allowing for more space. It was a winning formula that made it Cadillac's best-selling model in the US market during its 7-year tenure.
Earlier models used a 255-hp 3.6L V6 engine as the powertrain paired with a 5- or 6-speed automatic. There was an optional 320-hp 4.6L V8 engine available, too. The former carried over into the second generation, along with a new base-level 2.8L V6 turbocharged unit that outputted up to 300-hp and 295 lb-ft of torque, or a 3.0L V6 unit that could manage 265-hp and 223 lb-ft of torque.
As we mentioned, the SRX enjoyed bumper sales in the US, its best years being in the second generation which between 2010-2015 remained consistently at 50,000+ a year --- the best year was 2015 with 68,850 units sold in the US and 99,397 sold globally.
The SRX received a facelift in 2013 where it received for the first time the Cadillac User Experience "CUE" infotainment system, now one of the most highly rated infotainment systems in its latest and current form. It also underwent various changes each model year with new features like wheel designs, exterior colors, and some technical additions like Intellibeam headlights.
One somewhat negative hit the car took was in 2010 when 500 models were recalled because of possible engine failure when owners used regular gasoline instead of premium.