Cadillac SRX Owner's Manual
---
You can find 13 different owner's manuals for the Cadillac SRX on this page that are in the PDF format.
Yearly SRX Owner's Manuals
The years available stretch from 2004 through to 2016 and to view the manual you just click the name underneath.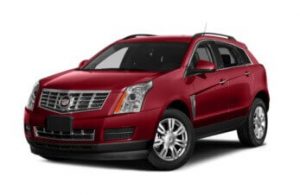 About The SRX
For just over a decade the Cadillac SRX was the company's mid-size luxury crossover SUV that was built and sold all around the world.
To find out more about this car, read on to learn about its features, safety ratings, and warranty information within the various owner's manual PDFs.
The first generation of SRX was released in 2004 and was built in the USA, China and Russia.
They were built on the same platform as the CTS and STS models sharing many of the same mechanical parts.
Engines were in the form of a 3.6 litre V6 or a 4.6 litre V8 mated to a 5 or 6-speed automatic transmission.
With the introduction of the second generation, Cadillac SRX in 2010 buyers found that this new model had its own unique platform not shared with other Cadillac's.
Engine choices were now a 2.8 turbocharged, 3.0 or 3.6 litre V6 mated to a 6-speed automatic transmission.
Safety improvements were a huge priority in the newer version of the SRX after front passenger death rates in the first were way above average.
The car was awarded 5 out of 5 stars in almost all disciplines of the test being let down by rollovers like most SUVs and tall vehicles.
Among these later models, you can find trim names such as Luxury, Performance and Premium applied to them.
Sales were pretty good for the SUV all the way until it was discontinued in 2017.
The model was eventually replaced by the 2 newer ranges of SUV by Cadillac, the XT5 and XT6.