2021 Audi A5 Owner's Manual
---
You can view the 2021 Audi A5 Owner's Manual further down the page underneath the image of the cover.
Clicking on the "view full screen" button will take you to a full screen version of the manual.
2021 A5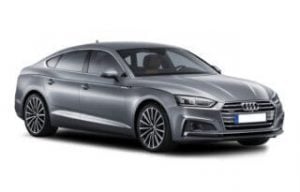 When the Audi A5 first arrived back in 2007, some couldn't help but notice how it looked quite a lot like an A4, but one that had undergone a kind of surgery to look more athletic and dynamic.
The 2-door Audi A5 continued to impress in the 2021 model year, offering more horsepower and a brand-new 12-volt mild hybrid system that Audi was installing across its range. The 2.0L 4-cylinder signature engine of the Audi was boosted from 248-hp to 261-hp.
Other additions for the 2021 model year included wireless Apple CarPlay and new ADAS features like a lane-departure warning. The Black Optic exterior package added a black-painted roof into the mix, too.
There are a total of 6 trim levels for the 2021 Audi A5, starting with the Premium Coupe (MSRP: $45,045) and building up to the Prestige Cabriolet (convertible; MSRP $62,195). The high-level '45' configurations outputting 261-hp can get from 0-60 in just 5.5 seconds.
Despite being a 2-door build, the A5 is still a sedan with rear seats, though the rear seats are pretty tight and no adult will want to be sitting in them for too long a journey. The trunk is more spacious, though, at 15.8 cubic feet!
The rear seat may be a little too cozy, but the interior quality is undeniably high. Every inch contains soft-touch, high-quality materials and finishes, including textured aluminum, leather on the seats and steering wheel, a commanding high driver seat position, large infotainment touchscreen, Audi's 12-inch digital cockpit, and more.
On the road, the A5 offers the crisp and even drive quality you'd expect from an Audi sedan, but if you want to feel the power, it's important to get the higher trim levels, because the lower-spec models can feel more lackluster when you put the pedal to the metal.