2021 Mini Countryman (w/ Mini Connected) Owner's Manual
---
You can view the 2021 Mini Countryman (w/ Mini Connected) Owner's Manual further down the page underneath the image of the cover.
Clicking on the "view full screen" button will take you to a full screen version of the manual.
Manual Cover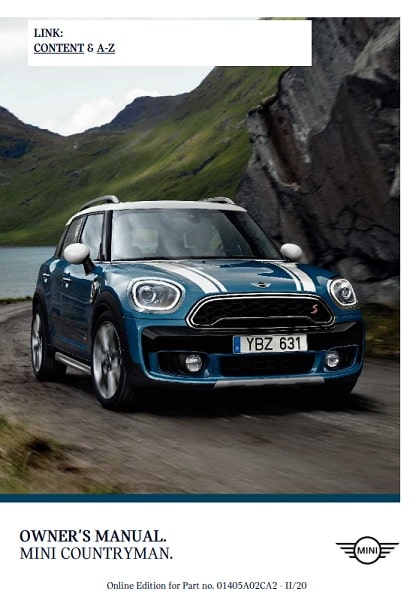 Other Manuals For 2021 Countryman (incl. SE)
2021 Countryman (incl. SE)
When BMW reintroduced the Mini brand back to the world after purchasing it in 1999 they promised all sorts of whacky variations.
We never did get the cool mini cement mixers and other tiny versions of construction machinery we were teased with but they did deliver on a revived Countryman model.
A 2021 Countryman is a sort of hybrid van/car mix with the best features of both in one package.
The front half is the same as a standard revived Mini Cooper but the rear half is like that of a van.
Looking at the rear of the car you will see barn doors that are split in two and open outwards to provide amazing access for those loading large objects into the back.
Seating also folds flat in order to create a bed area in the back just like you would have in a standard van, allowing the Countryman to adapt to its needs.
To understand how you can fold these seats flat or even access the dimensions to find out if the size will be appropriate for your use you can consult the manual.
A copy of the PDF owner's manual for the 2021 Mini Countryman is embedded on this page and is easily read, downloaded or printed.