2019 Kia Optima PHEV Owner's Manual
---
You can view the 2019 Kia Optima PHEV Owner's Manual further down the page underneath the image of the cover.
Clicking on the "view full screen" button will take you to a full screen version of the manual.
2019 Optima (K5)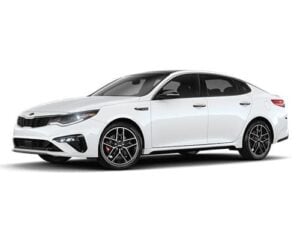 In the year 2000 Kia introduced the Optima for the first time, a mid-size car sold all around the world.
Originally it acted as a budget alternative in North America, lacking many standard features but with a price tag that made it one of the cheapest new cars on the market.
Over the years and as Kia's brand was improved the car became a great value for money sought-after model.
Sales globally have increased and in recent years the Optima regularly sells more than 250,000 units per year.
This 2019 hybrid Kia Optima is an example of some of the first of the fifth-generation introduced this model year.
Dominating the dashboard is the fully digital instrument cluster and 10.3-inch touchscreen infotainment system.
You can learn how to operate the infotainment system and the mobile device connectivity for Apple and Android devices using the manul.
A PDF copy of that 2019 owner's manual is embedded on this page and free of charge to view, download or even print off.
Towards the latter half of the document, you can find guides covering maintenance such as oil changes, tire inflation and coolant level checking.