Dacia Jogger Owner's Manual
---
You can find 0 different owner's manuals for the Dacia Jogger on this page that are in the PDF format.
Yearly Jogger Owner's Manuals
The years available stretch from 2100 through to 1900 and to view the manual you just click the name underneath.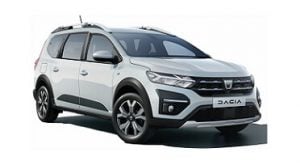 About The Jogger
The Dacia Jogger is one of the latest models to emerge in the company's range as part of their post-1999 mission to update and modernize the Romanian brand since partnering with French giant Renault. First released in 2021, the Jogger is a compact 5-door wagon/minivan build, with a front-engine and front-wheel-drive layout.
Even though the first models were released as recently as 2021, the Dacia Jogger range actually received its first important updates and facelifts in the 2022 model year. This wasn't unique to the Jogger models, in fact, and was done because Dacia was updating their entire line in the 2022 model year.
The 2022 Dacia Jogger received a new grille design, and reflected the company's newly redesigned logo in both the interior and exterior styling, including on the steering wheel. Since its release, it has been available as either a 5-seater or 7-seater option. The overall design draws heavily from the third generation of the Dacia Logan model series.
As of the 2022-2023 model year, there are no diesel versions of the Dacia Jogger, with all models powered by one of two main variants of a 1-liter 3-cylinder gasoline engine with turbo. There is also an LPG version, also 1-liter. The 2023 model year will introduce a hybrid model, which adds some SUV/crossover-like design elements, and bumps the engine up to a 1.6-liter gasoline engine. All power trains are paired with a 6-speed manual transmission.
Those wondering about the quality or power of the Dacia Jogger's upcoming hybrid powertrain need only look to the latest Renault Clio, Captur, and Arkana models, all of which feature the same technology.
The interior of the Dacia Jogger, while fairly simple and made with cost-effective materials, doesn't feel cheap, and features a pleasing mix of modern features like a large infotainment touchscreen, and driver-friendly hands-on dials and buttons as controls.