Dodge Avenger Owner's Manual
---
You can find 7 different owner's manuals for the Dodge Avenger on this page that are in the PDF format.
Yearly Avenger Owner's Manuals
The years available stretch from 2008 through to 2014 and to view the manual you just click the name underneath.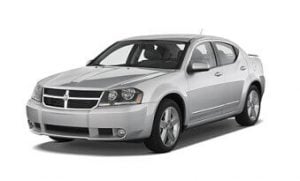 About The Avenger
The Dodge Avenger started off life in the mid-1990s as a sports compact car, before switching to a mid-size in later life.
These owner's manuals will give you the information needed to maintain your vehicle for years of use.
Dodge Avenger Coupe
It was based on the same platform as the Mitsubishi Eclipse and the Chrysler Sebring coupe which was originally based on the Mitsubishi Galant chassis.
You could choose either a 2-liter or a 2.5-liter V6 with a manual or automatic transmission.
All of these first-generation coupe Avengers were 2-door with the engine in the front driving the front wheels.
Over the years when the car was a coupe it added features such as ABS and multiple airbags for the front occupants.
This coupe model was succeeded by the Stratus in the year 2000 as the American company's sporty compact car.
Dodge Avenger Mid-Size Car
In 2007 Dodge brought back the Avenger name for the 2008 model year but this time it was for a 4-door mid-size car roughly 5% larger.
It was intended to replace the coupe Stratus model that had originally replaced the first generation version of this car.
This new model was built upon the JS platform from Chrysler that was also in use under the Dodge Journey and Jeep Compass mid-size crossover SUVs.
It bore a wider range of engines that included larger displacements and the option of an all-wheel-drive chassis for the first time.
In terms of features, this new mid-size Avenger had a cooler built into its glovebox and optional heated/cooled cup holders.
Eventually, the Chrysler 200 took over in the mid-size car slot that this model left behind.