You can find 5 different owner's manuals for the Ford Puma on this page that are in the PDF format.
Yearly Puma Owner's Manuals
The years available stretch from 2019 through to 2023 and to view the manual you just click the name underneath.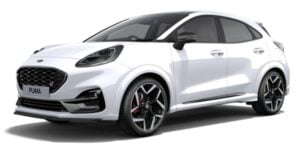 About The Puma
Originally the Ford Puma was a sports compact coupe based on the Fiesta, now it has been reimagined as a subcompact crossover SUV.
It has 5 doors and all models are front-wheel-drive with the engine located in the front of the car.
Underneath the car, it uses the most recent Fiesta chassis as a platform like its predecessor did.
It sits as the second smallest SUV in the Ford range just above the EcoSport entry-level model taking many emerging and established markets by storm.
Production of the new version of the Puma began in 2019 with all models being assembled in Romania and marketed in Europe.
Engine choices have smaller displacement than its older sport compact version and include many hybrid options with modern turbochargers.
For those looking for a slightly larger crossover SUV from the same American automaker, they can opt for the Kuga/Escape model.
Transmission options available at the time of purchase include a 6-speed manual or 7-speed dual-clutch automatic.
Inside of the car is a wide range of modern technology including an infotainment system embedded into the dashboard.
To learn about all of the features built into this touchscreen system you can consult the official Ford Puma owner's manual.
On this site, you will find versions available for each year that it has been in production as the crossover SUV version.